It's time to Ranger Up with @trekkieb47 @secretrangerfan & @TheCinemaSlob as they talk all things Power Rangers on the Four Eyed Radio Network with RANGER COMMAND POWER HOUR!
In a surprise release, we team up for another crossover! Ranger Command Power Hour & Talkin Toku Crossover Part 3 – What to Do Without the Power
We are joined by our brothers in Podcast Arms – Talkin' Toku At The Nation – Chris @rankal, Jordan @DenO_Tokunation and Tom @SoulinkChu
In this crossover, the Rangers contemplate the holidays and have to fight TURKINATOR and BLIZZATROLL.
Then the crossover team discusses the Dino Charge toys, new sounds that were unlocked in the Morpher and what to do without new Power Rangers episodes to watch until February.
Since Power Morphicon's reveal of the Power Rangers Dino Charge cast, combined with the international airings of Super Megaforce, fans are anxiously awaiting February's premiere. What will Judd Lynn bring to the table? What can we expect to be used from a season like Kyoryuger? What will we watch in the meantime? ARE YOU READY TO CHARGE IT UP?!
Listen now: RCPH Episode 28: Ranger Command Power Hour & Talkin Toku Crossover Part 3 – What to Do Without the Power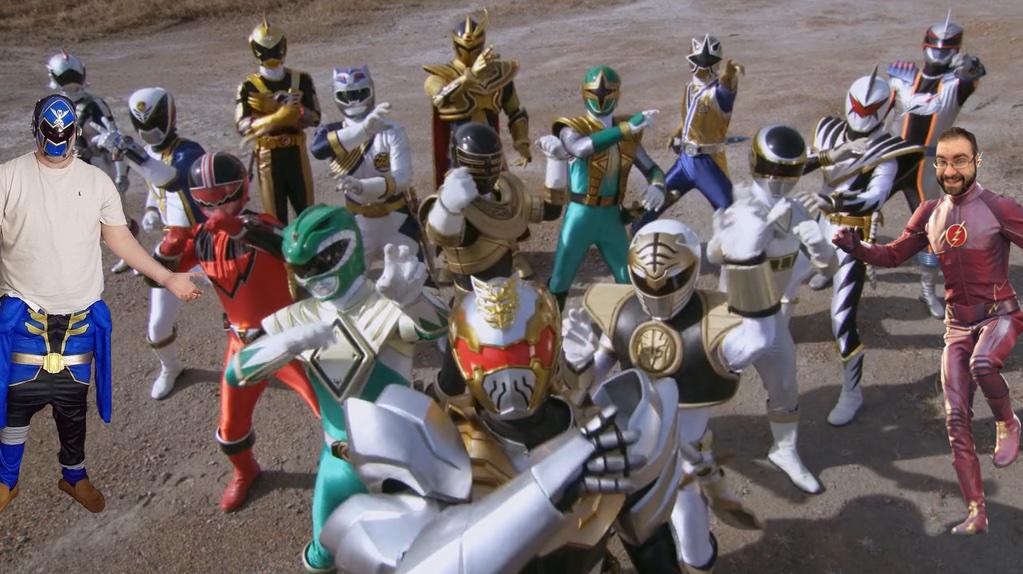 Credits
STARRING (in order of appearance):
Eric aka trekkieb47/SPD Shadow Ranger – as himself
Zach aka TheCinemaSlob/Mighty Morphin Blue Ranger – as himself
A.P aka SecretRangerFan/Lightspeed Rescue Yellow Ranger – as herself
TURKINATOR – Eric aka trekkieb47
BLIZZATROLL – Chris aka Kickback
Chris aka Kickback/Zeo Gold Ranger – as himself
Jordan aka Den-O/Kamen Rider Gaim Kachidoki Arms – as himself
Tom aka Sentai Tamashii/Kamen Rider Sigurd – as himself
MUSIC (in order of first appearance but some lacking actual names, some heavily edited)
Kamen Rider Fourze BGM
Kamen Rider Fourze BGM
Power Rangers Super Megaforce theme
Power Rangers Super Samurai Instrumental theme
Power Rangers SPD theme
Power Rangers Lightspeed Rescue theme
Mighty Morphin Power Rangers by Alakrity
Combat by Ron Wasserman
Kamen Rider Gaim BGM
Go Gold Ranger by Jim Cushinary
Ranbou Escalation (Kamen Rider Gaim)
Power Rangers Dino Charge theme song
Zyuden Sentai Kyoryuger BGM music
Fight by Ron Wasserman
Power Rangers Dino Charge Instrumental Theme
Kamen Rider Gaim BGM
SOUND EFFECTS
Power Rangers Super Megaforce sound effects
Stock sword sound effects
Kachidoki Arms via ShukuenShinobi Reviews on YouTube
Kamen Rider Energy Riders sound effects
Sonic Arrow via ShukuenShinobi Reviews on YouTube
SPECIAL THANKS FROM KICKBACK
Eric for being patient (to a point) and for letting me spamming every single little update to his E-mail. Zach for including commentary to his lines that I didn't even notice until I finished editing the episode. A.P. for getting her lines to me so fast and for nailing the delivery at times that I started clapping like a moron. Jordan and Tom for being good sports about recording their lines and helping provide the Dino Charge theme songs in good quality. And for everyone who enjoys the drama skits. Really put in some extra love and care in trying to make the best sounding skit possible, even though a couple of parts were sloppy that I couldn't fix (Turkinator's voice change and the fact I didn't save the project file and had a computer restart).