Ranger Eric Berry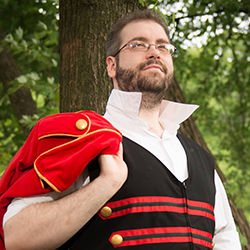 @trekkieb47 on Twitter, Tumblr, YouTube, Instagram
Eric has loved Power Rangers since its inception in August 1993. The new kid in school, Eric instantly identified with the character of Tommy during the "Green with Evil" saga. The Power Rangers phenomenon quickly spread and soon he had something in common with all the other kids.
Eric lost touch with Power Rangers after Lost Galaxy, with the pressures of High School and working a job. It wasn't until after college that he picked up on Power Rangers again with Dino Thunder and the return of his childhood hero. His younger brother's first series was SPD, a show they both enjoyed and got to meet the actors later in 2005 at Youmacon. From then on, Eric has never missed a show.
As an adult Power Rangers fan, Eric enjoys the franchise by collecting toys, building and collecting replica props, going to conventions, cosplaying, podcasting (obviously), getting his graphic designs made into official Power Rangers merchandise, and being on a Power Rangers DVD or two.
Ranger A.P.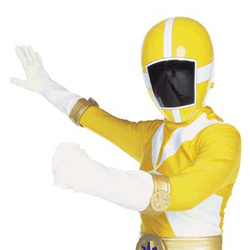 @secretrangerfan on Twitter, Tumblr
As a kid, A.P. started properly following Power Rangers during Turbo, but didn't really get into the series until around Lightspeed Rescue. She stopped watching regularly during Wild Force, picked it back up again with Dino Thunder, and only saw a few episodes here and there after Mystic Force.
As an adult fan, she became a fairly regular viewer again with the premiere of Samurai, but nothing has really changed from when she was a kid. Her merchandise collection remains small and focused on her favorite Rangers, and she prefers to not get too involved in the fandom. To her, Power Rangers is simply a fun break from adult life. She doesn't know everything there is to know about the franchise and she's okay with that. Because of this, she prefers to label herself as more of a "casual" fan.
When not involved with the RCPH, she focuses a lot of her time on the arts. Formerly a TV critic, she now works in theatre where she has produced, designed, directed, and worked on the crew for various theatrical productions.
Ranger Zach LaVoy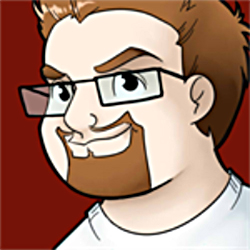 @TheCinemaSlob on Twitter, Facebook
Zach was a fan of Power Rangers from the very beginning. As a kid, he had a ton of the toys and often spent his afternoons playing with them while watching the show. He followed the show until the end of PRiS and then came back into the fandom in 2004 with the premier of Dino Thunder.
In his adult life, he discovered the Super Sentai origins of the show, and that led him to a veritable treasure trove of equally entertaining shows. While some may call him a "Sentai Snob", he truly loves both forms of the show. Zach's other fandoms include: Kamen Rider, Ghostbusters, Doctor Who, Star Wars, Star Trek, and many many more. When's he not podcasting with his RCPH team, he attends conventions, plays games (both video and tabletop), and enjoys movies. In fact, his alter ego, The Cinema Slob, has a show dedicated to reviewing films, though probably not in a way you would expect.
Ranger Nation Special Guest Co-Hosts
Chris aka "Kickback"
@rankal on Twitter, Host of the @TalkinToku Podcast, Owner of Toku Nation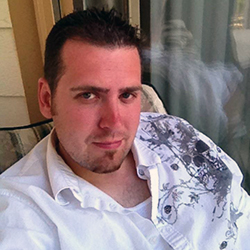 Chris grew up a giant fan of Transformers in the 80's. But when Transformers seemingly died out and switched to the more beast-side of things, Chris got his fix of giant transforming robots in another form – Mighty Morphin Power Rangers. First brought in to the franchise because of the Megazords and their combining features, Chris succumbed to the stories that were told and the characters that stayed with the show through In Space. Once the Zordon-era of Power Rangers came to an end, Chris lost interest in Power Rangers and rejoined the Transformers fandom, helping to grow the incredibly popular online fan community that is TFW2005.COM for the next 10+ years. However his love for Power Rangers couldn't stay buried forever and when Tommy returned in Power Rangers Dino Thunder, Chris was hooked again.
After retiring from the Transformers fan community after being an administrator of TFW2005.COM for over a decade, Chris knew he couldn't just be a bystander in the tokusatsu fandom. He spent 6 months gathering other tokusatsu fans from TFW2005 and in 2012 created TokuNation.com, a toku-based site modeled after TFW2005 with one goal in mind – to create a website focused on tokusatsu news, shows, and toys – and to create a community for people to talk about all of it. In 2013, he decided that all the time he spent text messaging two of his best friends about tokusatsu could be done in a different format – and thus, the Talkin Toku podcast was created.
Fun facts? Chris has an entire storage unit full of THOUSANDS of Transformers toys from 30 years that he plans to sell. And despite his love for big transforming robots, he has only recently purchased his first Megazord (the Super Megaforce Legendary Megazord) – as his main collecting interest at the moment are S.H. Figuarts and the Arms Change line for Kamen Rider Gaim. His favorite Power Ranger of all time is the Zeo Gold Ranger, so much so that he constantly bugs Tamashii Nations to make one as a Figuart and has even offered to host a Kickstarter to get the damn thing made already. 🙂
Batgirl aka "The2ndBatgirl"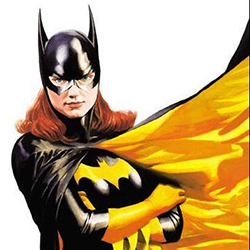 @The2ndBatgirl on Twitter, Power Ranger Recaps
TSB has red hair, works in a library, has a brown belt in jiu jitsu, yet she is still not actually Batgirl, much to her disappointment.
She started watching Power Rangers in October 1993, quit during Lost Galaxy due to the ridiculous airing schedule, and came back during RPM, and then marathoned every single season over the course of a summer.
TSB enjoys collecting toys, arguing about feminism on twitter, going to conventions, and writing ridiculous fanfic. She has an insane goal of eventually watching all the sentai, and convincing everyone she knows that there is a season of either Power Rangers or Sentai that is relevant to their interests.